About Us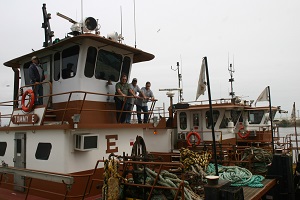 Echo Towing Service was established in 1972 by Captain Tom Echols, with a 300 horsepower single-screw tug. He made his living working for a construction company and an affiliate of Kirby Corporation/Western Towing.
In 1980, Tom traded up to a larger boat and renamed it the Nita E., for his wife, Nita Echols. At this point, Captain Tom incorporated, and began working as an owner/operator for several more companies.
In 1999, Echo Marine, Ltd. was established to manage the business side of things, while Echo Towing Service, Inc. remained as the owner/operator of the Nita E. With demand showing no signs of slowing, Echo Towing Service, Inc. purchased a second vessel three years later, and christened it the Tommy E., for Captain Tom's son. Echo Towing Service, Inc. charters both vessels to Echo Marine, Ltd., which secures additional tugs and barges through four other charter organizations as needed.
Today, counting the addition of the Rhonda E. and Phyllis E., Echo Marine has a total of five tugs to satisfy customer needs and brokers additional tugs on an as needed basis.
Captain Tom Echols continued to serve the company as its president, until his passing on December 26, 20012. His son Tommy has taken on a different business venture and his daughter Rhonda Echols is now the owner, and handles all aspects of the company's operation.